About Dr Bob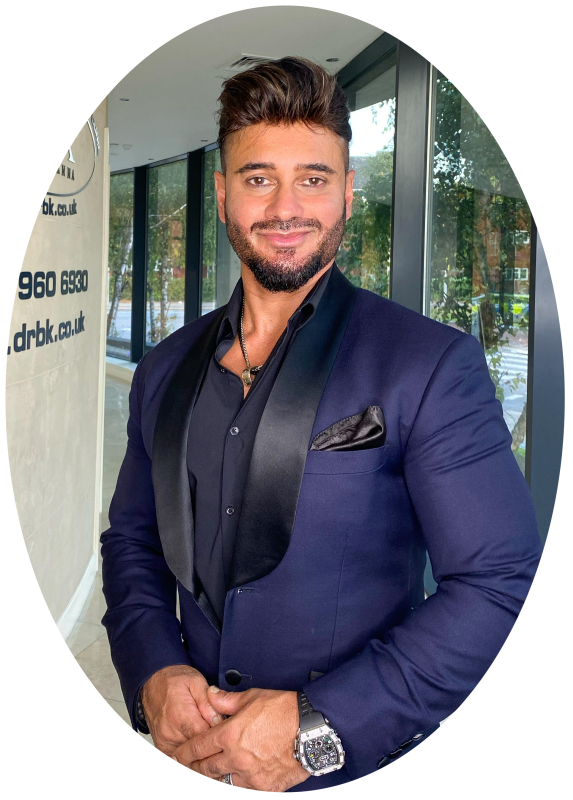 About Dr Bob Khanna
Bob Khanna is registered on the GDC (General Dental Council Website) website as Rajesh Khanna, registration number 68541.
Dr Bob Khanna has been practicing cosmetic dentistry and facial aesthetics for over 25 years and is one of the world's most eminent and respected Facial Aesthetics Practitioners. He is trusted by many doctors globally, with a high percentage of DrBK patients being medical professionals themselves, earning him the nickname of "The Doctor's Choice" for Facial Aesthetics.
As well as providing the leading Training Service for Facial Aesthetics in the UK, since qualifying in 1993, Bob has authored numerous offline/online articles and webinars which have been featured in dental and medical publications and websites. He has also been featured in local, national and international media outlets, including many cosmetic surgery related television documentaries. e.g. Cosmetic Surgery Live (Channel 5), The Ruby Wax Show (BBC one) and Silicone chicks (Discovery Health) and assisted in the launch of Sky televisions award-winning Nip-Tuck series with his major contribution in 'Plastic Surgery Laid Bare' (sky one).
Due to his global achievements, Professor Bob Khanna was appointed Visiting Professor of Facial Aesthetics at the University of Sevilla (2012), Visiting Professor of Facial Aesthetics at the University of Vienna (2022) and has established a solid reputation for leadership in the field of Facial Aesthetics. He is an internationally renowned Lecturer in this field and regularly chairs and lectures at the largest aesthetic conferences in the world, including IMCAS, FACE, CCR and more.
---
Key Achievements
Accolades
First Dental surgeon in the world to embrace facial aesthetics in 1996
Dr Bob Khanna Training Institute opened for dentists, doctors and surgeons all over the world (1997), and has since trained thousands on the topic of facial aesthetics
Awarded with a Fellowship from the 'International Academy of Dental Facial Aesthetics' in New York, an accolade shared by some of the world's most eminent Dental surgeons (2003)
Founded 'International Academy of Advanced Facial Aesthetics' (IAAFA) in 2005 which has raised over £310,272 for local charities. IAAFA is supported by many Internationally accomplished Dentists, Doctors, Plastic surgeons and Dermatologists.
FACE Conference UK – Invited lecturer and conducting live demonstrations (2007 – current)
'Best Training Course Provider' – Aesthetic Medicine Awards (as voted by the profession in 2008)
Awarded 'UK Private Dental Surgeon of the Year', as voted by his peers (2009)
DrBK Clinic and Training Institute opened in Reading – a state of the art facility dedicated to clinical excellence (2009)
Appointed as Lead Clinical Director in the FGDP Facial Aesthetics Masterclass at the Royal College of Surgeons, London (2009)
Author of the Facial Aesthetics Module of the Aesthetics MSc at Kings College London (2010)
Q-Med masterclasses in Sydney, Australia, Hong Kong and Singapore (2010)
Appointed Clinical Chairman and Director at the Aesthetic Medicine World Congress (AMWC) – Monaco, Berlin, Moscow, South America, Far east (2011 – current)
Chair of the New Agenda at CCR – "A Dentist's Guide to Aesthetics" (2022)
Appointed Visiting Professor of Facial Aesthetics – University of Vienna (2022)
Named Tatler's 'Doctors' Choice' for Facial Aesthetics & Dentistry – Beauty & Cosmetic Surgery Guide 2023