Dentistry's Top 50 Most Influential
Posted on: January 19, 2022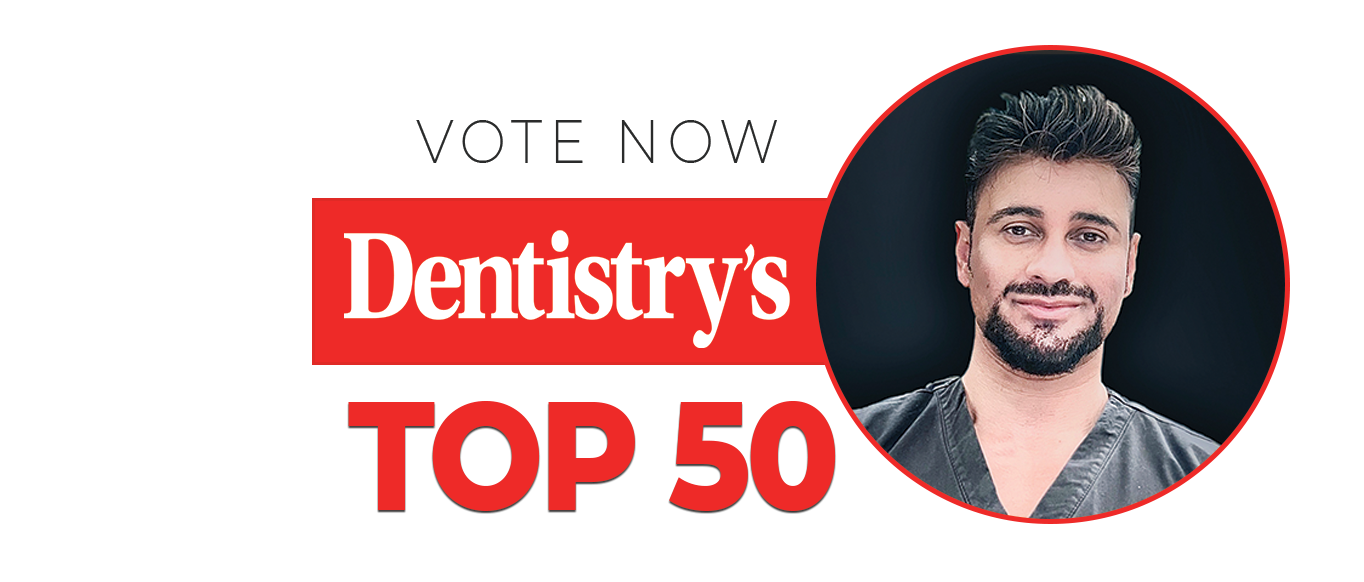 Posted on:
Dentistry's Top 50 is back!
Vote For Dr Bob Khanna as one of Dentistry's Most Influential
Dentistry's Top 50 gives you a chance to give some recognition to the people you feel have been most influential in dentistry over the past year.
Most of you are aware of Dr Bob Khanna's global reputation as a facial aesthetics expert for over 20 years. But perhaps you didn't know he was the first dentist in the world to embrace Facial Aesthetics and enable all dentists to do the same via a safe and comprehensive training pathway. He gave dentists a voice and enabled dentists to have credibility amongst the medical profession despite so much negativity, and paved the way for so many delegates to succeed with their own Facial Aesthetic Clinics.
We (the DrBKTI Team) are very proud of him and all that he has achieved over the last 12 months and in general over his career.  If you feel the same, please cast your vote for Bob below!
---
Why vote for Dr Khanna? 
He has had a global reputation in dentistry and aesthetics for over 20 years

He was the first dentist in the world to embrace facial aesthetics and enable all dentists to do the same via a safe and comprehensible pathway

He has taught thousands of medical professionals from all over the world how to deliver safe and predictable techniques, and created many techniques that are used by practitioners all around the world 

Set up IAAFA (The International Academy of Advanced Facial Aesthetics) to bring clinicians together to promote patient safety within the Aesthetics Industry, which is currently highly unregulated

Raised £274,866 for UK Charities through the Annual IAAFA Charity Ball
---
In the last 12 months, Dr Khanna has… 
Lead the Dr Bob Khanna Training Institute to be the FIRST Facial Aesthetic Training Institute in the entire UK to be approved by the Royal Society for Public Health. This has allowed delegates of the Training Institute to earn a qualification accredited by the RSPH

Pioneered techniques for Bruxism and other TMJ related Issues (BK Splint)

Seen a 150% increase in patients coming to the DrBK Clinic for jaw-related issues that had been to multiple other dentists before (See cases below)

Continued to educate thousands of medical professionals, from beginners through to experts on the topic of Facial Aesthetics

Provided Facial Aesthetic content through the medium of Webinars when the pandemic made it difficult to host courses

Introduced the DrBK Lift, an innovative non-surgical facelift using a combination of Radio Frequency Micro-needling, Thread Lifting and PRP

Lectured at numerous global Facial Aesthetic Conferences, teaching his techniques and concepts to medical professionals from all backgrounds

Hosted the Annual IAAFA Conference, bringing clinicians together to update them on the latest in the Aesthetics industry

Raised £29,000 for the Ruth Strauss Foundation through the Annual IAAFA Charity Ball

 
---
Complex Dental Cases in the last 12 months: 
As well as teaching and travelling to lecture across the world, Dr Khanna also still makes plenty of time to treat both aesthetic and dental patients. Here are some particular complex cases that Dr Khanna has completed in the last 12 months (click to view):